Key Autumn Winter 2022 Trends
Black Cut-Out Tops
Could you stomach a fashion show when war is breaking out just over 1,000 miles away? Still in the throes of a global pandemic, the fashion industry echoed the sentiments of Miuccia Prada delivered in a statement released after her autumn/winter 2022 fashion show. "You want to live again, to be inspired. And to learn from the lives of people." But at what cost?, people asked themselves and their neighbours, as they sat on the front rows in New York, London, Milan and Paris, phones pinging with updates on the Russian invasion and the desperate plight of the Ukrainian people.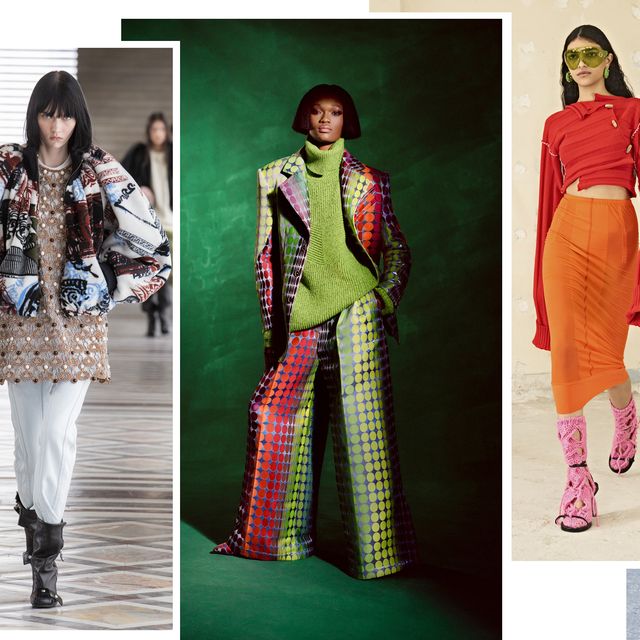 Color Blocking
Gone are the days of clashing colors being a fashion faux pas – this season, color blocking is back in a big way. Bold and bright, these clothes are loud and not for the faint of heart.
Corset Belts
The corset belt trend isn't anything new, but it often makes a comeback every few seasons. This waist-cinching accessory works well with a range of outfits, and this year we're seeing it combined with knits, crops, and separates.
Other talking points for autumn: gender fluidity, sex appeal, body positivity.  Knitwear is everywhere, and paired with everything.
But the biggest fashion trend of the autumn/winter 2022 collections? The return of beautifully made clothes you can wear any time, any place. Witness the rise of the humble tank top, a wardrobe binder that rarely commands the spotlight, yet sat centre stage at Prada, Bottega Veneta, and Loewe.
Ditto the flight jacket, souped up with sequins, leather and feathers and paired with ladylike skirts and thigh-high boots. The oversized blazer, too, packed a punch, teamed with everything from tiny metallic skirts and latex boots at Versace to baggy cords and sneakers at Louis Vuitton. Whether you feel like showing off or not, these are clothes for going places. Savour that freedom.
See more at our collection: https://beuteeshop.com/product-category/apparel/
See us at our social:
From: Beuteeshop team