Step into the holiday season with a touch of retro gaming flair with the Nintendo Super Mario Ugly Christmas 2023 Sweater Jumper. This festive sweater seamlessly combines the joy of the holidays with the nostalgia of everyone's favorite plumber, creating a must-have piece for gamers and fans of classic video games alike.
Crafted with meticulous attention to detail, the Nintendo Super Mario Ugly Christmas Sweater Jumper promises not only style but also comfort. Made from high-quality materials, this sweater ensures warmth during the chilly winter months, making it an ideal choice for holiday gatherings, family events, or cozy nights by the fireplace. The classic jumper style provides a timeless silhouette, allowing for versatility in styling.
What sets this Christmas sweater apart is its captivating design featuring the iconic characters from the Super Mario universe. The detailed and whimsical pattern showcases Mario, Luigi, Princess Peach, and other beloved characters, creating a visual narrative that captures the spirit of the beloved Nintendo franchise. The design is not just a nod to gaming; it's a celebration of the pop culture phenomenon that has enchanted generations.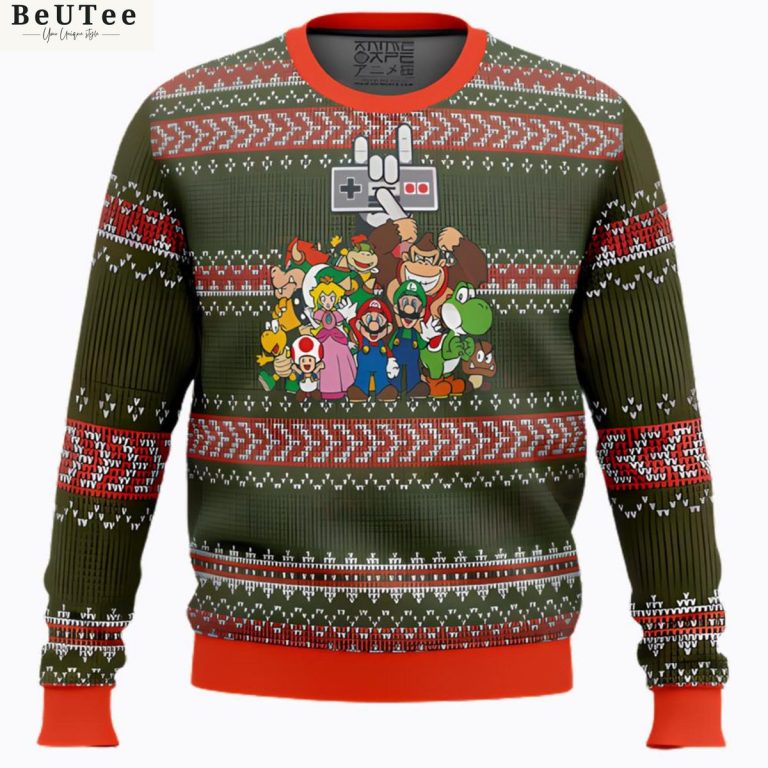 The Nintendo Super Mario Ugly Christmas Sweater Jumper is more than just festive apparel; it's a trip down memory lane. The nostalgic elements of the Super Mario design evoke a sense of joy and playfulness, making it a perfect choice for those who grew up with these beloved characters. Whether you're a seasoned gamer or simply a fan of classic entertainment, this sweater allows you to wear your love for Super Mario on your sleeve – quite literally.
Versatility is a key feature of this sweater. It effortlessly transitions from casual to festive, making it suitable for a range of occasions. Pair it with jeans for a laid-back look or dress it up with a skirt for a more polished ensemble. The Nintendo Super Mario Ugly Christmas Sweater Jumper adapts to your style preferences, ensuring that you can showcase your love for gaming in any setting.
Durability is essential for seasonal apparel, and this sweater delivers on that front. The high-quality construction and stitching ensure that this piece can withstand the wear and tear of holiday festivities, allowing you to enjoy it for years to come. It's not just a seasonal garment; it's a timeless addition to your wardrobe.
In conclusion, the Nintendo Super Mario Ugly Christmas 2023 Sweater Jumper is a delightful and whimsical way to infuse your holiday wardrobe with a touch of gaming nostalgia. Whether you're exchanging gifts, attending festive gatherings, or simply embracing the holiday spirit, this sweater is a conversation starter and a symbol of your love for Super Mario and the timeless magic of Nintendo. Step into the season with style and a playful spirit, celebrating the holidays with a classic twist.
https://linkhay.com/blog/961580/stockport-county-f-c-efl-2023-custom-ugly-christmas-sweater-jumper
Connect us at:
From: Beuteeshop team