Get ready to level up your festive wardrobe with the Super Mario Bros Ugly Christmas 2023 Sweater Jumper – the perfect gift for gamers and nostalgia enthusiasts alike. This playful and spirited sweater not only embraces the holiday season but also pays homage to the iconic characters from the world of Super Mario Bros, making it an ideal choice for those who want to showcase their love for the classic Nintendo franchise.
Crafted with meticulous attention to detail, the Super Mario Bros Ugly Christmas Sweater Jumper combines style with comfort. Made from high-quality materials, this sweater provides the warmth needed to combat winter chills while delivering a relaxed and cozy fit. The classic jumper style offers a timeless silhouette, making it a versatile piece that suits various occasions, from casual holiday gatherings to festive celebrations.
What sets this Christmas sweater apart is its captivating design inspired by the beloved characters from Super Mario Bros. Mario, Luigi, Princess Peach, and other familiar faces are intricately woven into the fabric, creating a vibrant and nostalgic pattern that captures the essence of the iconic video game series. The design is a delightful celebration of the gaming world, allowing you to express your fondness for Super Mario Bros in a festive and stylish manner.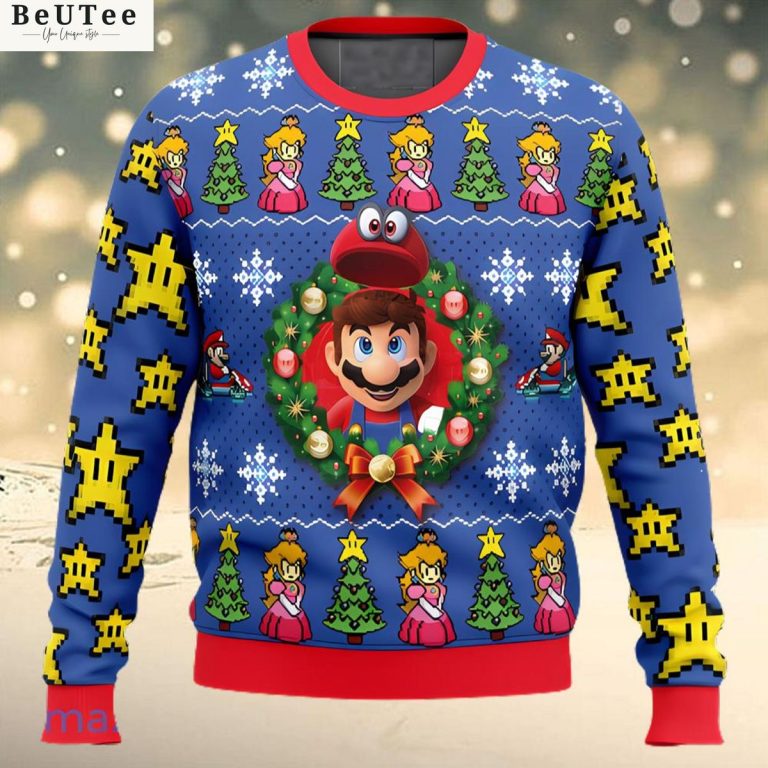 The Super Mario Bros Ugly Christmas Sweater Jumper is not just an article of clothing; it's a journey into the world of classic gaming. The playful and nostalgic elements make it a fantastic gift for individuals of all ages who have grown up with the adventures of Mario and his friends. This sweater is not just a fashion statement; it's a connection to the shared memories and joy that Super Mario Bros has brought to countless gamers worldwide.
Versatility is a standout feature of this sweater. It effortlessly transitions from a laid-back casual look to festive chic, making it suitable for a range of occasions. Pair it with jeans for a relaxed weekend vibe, or elevate your style by pairing it with a skirt for a more polished ensemble. The Super Mario Bros Ugly Christmas Sweater Jumper adapts to your fashion preferences, allowing you to showcase your love for gaming in any setting.
Durability is essential for seasonal apparel, and this sweater excels in that aspect. The high-quality construction and stitching ensure that this piece can withstand the excitement of holiday festivities, making it a cherished part of your wardrobe for years to come. It's not just a Christmas sweater; it's a timeless and playful expression of your gaming passion.
In conclusion, the Super Mario Bros Ugly Christmas 2023 Sweater Jumper is a delightful and spirited way to infuse your holiday wardrobe with the magic of Super Mario Bros. Whether you're searching for the perfect gift for a gaming enthusiast or looking to add a touch of nostalgia to your own wardrobe, this sweater is a festive celebration of the beloved characters and adventures that have become a cornerstone of gaming history. Step into the holiday season with style, flair, and a whole lot of gaming fun.
https://linkhay.com/blog/961584/tranmere-rovers-efl-2023-custom-ugly-christmas-sweater-jumper
Connect us at:
From: Beuteeshop team